Area Rescue / Nurse Call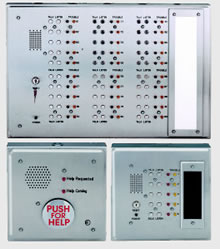 Protection Systems Inc. can install the latest Area of Rescue systems for your building. Building codes require Area of Rescue communication stations to be installed in certain applications. Protection Systems, Inc. can guide you through the code requirements for building.
If you need a Nurse Call system for your health care facility we can install a system that will provide the assurance that your patients' needs are just a press of a button away. Call us today and we can design and install a system that is right for your company's requirements. We feature Alpha Communications, Tektone, Mircom Housing Devices Inc. and Talk-A-Phone systems.